Suzanne B. Robotti
Executive Director
Suzanne Robotti founded MedShadow Foundation Inc. in 2012 after two major health issues drove her to become engaged in patient advocacy.
Robotti's mother, like millions of other women in the 1950s and 1960s took the prescription drug DES (diethylstilbestrol), which was thought to prevent future miscarriages. The drug was widely used despite earlier publication of a study that linked DES to reproductive organ malformation and even cancer. DES was eventually taken off the market in 1971. When Robotti reached childbearing age herself, she discovered she was infertile due to DES exposure. This prompted her to join DES Action, a patient advocacy group.
In 2010, her son's physician prescribed Ritalin for his ADD, but was unable to explain the medication's side effects. Robotti was concerned about the long-term effects of this stimulant on her son's developing brain.
In 2014, MedShadow Foundation acquired DES Action USA, a nonprofit advocacy organization that provides information and educational resources to individuals exposed to the harmful drug diethylstilbestrol (DES).
Email Su Robotti or use our Contact form.
Tara Haelle
Editor, VOICE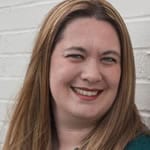 Tara Haelle is a freelance science and multimedia journalist who specializes in writing about women's health, prenatal health, vaccines, infectious disease, pediatrics, endocrinology, immunology and other areas of medicine as well as marine biology and environmental science. She is a Forbes contributor whose work also appears in NPR, Scientific American, Politico, Medscape, and elsewhere. She cowrote The Informed Parent: A Science-Based Guide to the First Four Years and blogs about reporting on medical research for the Association of Health Care Journalists.
Tara also blogs about evidence-based parenting at Red Wine & Applesauce and writes children's science books. She draws on her years as a high school teacher, test prep tutor and college adjunct instructor to inform the way she writes about science and to explain complex ideas in accessible prose or in public talks, such as https://www.youtube.com/watch?v=ggtkzkoI3eM. She holds a master's in photojournalism from the University of Texas at Austin, and her photography has appeared in various regional and national publications. You can follow her on Facebook and Twitter.
Email Tara or use our Contact form.
Cheyenne Chapman
Community Manager
Cheyenne is a DES Daughter, her mother having been prescribed in 1952/53 as a "special medication so she could carry you full term which resulted in a 'Miracle Baby'," in the words of the family doctor's widow. We now know that DES is the "prototypical endocrine disruptor" and that endocrine disrupting chemicals (EDCs) can interfere with not only reproductive health but also a multitude of bodily functions, growth and development, metabolism, responses and even behaviors. Cheyenne's personal experience as a DES-exposed person led to a career as an environmental attorney and advocate for protecting human health and the environment from EDCs.
Before joining DES Action as Community Manager, Cheyenne served for a decade as Legal Policy Analyst with the Oregon Department of Environmental Quality. Previously she worked in the nonprofit sector specializing in research, education and advocacy related to chemicals policy reform at state and federal levels, and initiating reform efforts in health care institutions. She brings expertise in strategic planning, member engagement, and collaboration; policy analysis and program development; and resource development, donor relations and fundraising.
Cheyenne holds a degree in Environmental Design from the University of Colorado, a law degree from the University of Oregon, and an advanced law degree in Environment and Natural Resources from the Northwestern School of Law at Lewis and Clark College.
Cheyenne looks forward to getting to know you, supporting and growing community connections, and working with you to advocate for all DES-exposed people. One advocacy project of particular interest is working for reinstatement of funding to continue National Institutes of Health research related to the DES cohort, an immensely valuable and irreplaceable study related not only to DES but all EDCs. Cheyenne joined the DES Action team as Community Manager in March 2022 as a volunteer, and in June 2022 will join the staff.
Email Cheyenne or use our Contact form.
---
Remembrances
Pat Cody – DES Action VOICE Editor (9/14/1923 – 9/30/2010)
We will always remember Pat Cody, DES Mother and co-founder of DES Action USA. She worked as Program Director from 1978 – 2004. Her years there saw passage of Congressional funding for DES research, creation of our quarterly newsletter DES Action VOICE, and assistance in setting up DES groups in the Netherlands, Australia, Canada, France, England and Ireland. But Pat was so much more. She wasn't the loudest voice in the room but she usually was the wisest. Pat knew how to get things done and you could never say "no" to Pat. She kept DES Action USA on a steady course and her spirit guides us still. Thank you, Pat!
---
Michael Freilick – Former President (9/16/1953 – 7/6/2011)
Sadly, Michael died of a heart attack – unrelated to DES.
Michael was a health educator by choice. As a DES Son who had surgery for testicular cancer at age 29 he learned that men, and especially young men, need to pay more attention to their health. He wanted to alert them, and spoke out where ever and whenever he could. His message was simple. Start doing testicular exams as a teenager. Michael used his experiences to show how early detection prolonged his life for decades. Michael, and his wife Carol, are the adoptive parents of their daughter, Michelle.
---
DES Action Executive Directors and dates served
Fran Fishbane (national president) at least 1979-1980
Nancy Adess (national president/executive director) 1980-1985
Eileen Hanson 1985-1986
Katherine Bella 1987-1988
Nora Cody 1990-2004
Fran Howell 2005-2015
Su Robotti 2015-present
Pat Cody (program director) 1980s – 2005
---