DES: A population health tragedy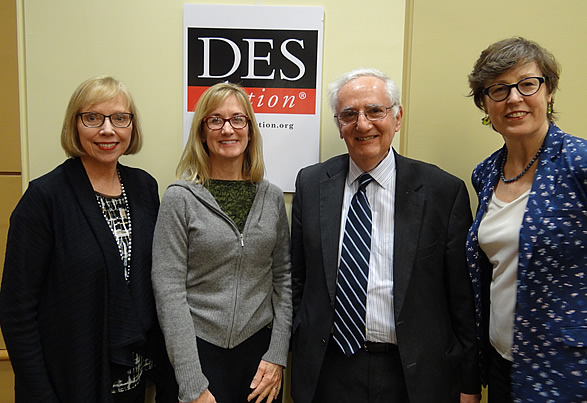 Presenters at the Symposium in Boston on March 1 (left to right):
Kari Christiansen, NIH National Cancer Institute DES Follow-up Study Steering Committee The history of DES, DES Action USA; Linda Titus, Sci, D. Associate Director of the Hood Center for Children and Families Recent and ongoing research on DES, 3rd generation, what we might expect in the future; David J. Fine Attorney, of Council, Rubin Hays, PC DES Changing the law, how the law applies in reproductive health issues; Suzanne Robotti DES daughter, Executive Director DES Action, USA, founder MedShadow Foundation It's not just DES
1.
A History of DES
by Kari Christiansen

3. Attorney David J. Fine, of Council, Rubin Hays, PC discusses DES: Changing the law, how the law applies in reproductive health issues; Suzanne Robotti, DES daughter, Executive Director DES Action, USA, founder MedShadow Foundation: It's not just DES.
2. Linda Titus, PhD, MA, Professor in the Departments of Epidemiology and Pediatrics at the Geisel School of Medicine at Dartmouth, explains
the current research on DES
.
This symposium was held at Boston University and was sponsored by the Maternal and Child Health in Action and Group on Reproductive Health and Rights.
---
About DES
Diethylstilbestrol (DES) was the first synthetic estrogen to be created. Never patented, it was cheap and easy to produce, so DES was made by hundreds of drug companies in the U.S. and around the world. DES was prescribed to millions of pregnant women in the mistaken belief that it could prevent miscarriage. It did not work but instead, DES harmed the mothers, the children born of those pregnancies and possibly the grandchildren and beyond.
---
Read This
In The DES Archives: Learning from a Public Health Tragedy, Su Robotti explains to the Our Bodies Ourselves audience about the significance of the donation of the DES Action archives to Smith College and about the related symposium at Mount Holyoke College.
---