Meet Our New Community Manager, Britt Vickstrom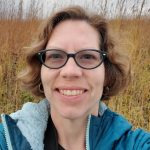 Britt Vickstrom is a DES granddaughter; her grandmother was given DES in 1946/1947 as a way to prevent a miscarriage. She has worked and volunteered with non-profits for 20 years, focusing on teaching, public speaking, member and volunteer recruitment, fundraising, and public relations. Britt is a 6th generation Iowan, has lived in eight states and two countries. She is a proud alumna of Mount Holyoke College and the University of Edinburgh. She enjoys volunteering at a local environmental education center.
Britt looks forward to hearing and learning your stories, helping to keep you all connected, and advocating for all DES-exposed people. Britt began serving as Community Manager in May 2020.
We are thrilled to welcome Britt to our staff! Please contact Britt via our toll free number: 800-337-9288, or Britt@DESAction.org. Britt is happy to help you with membership needs, questions, resources and education.
About DES
Diethylstilbestrol (DES) was the first synthetic estrogen to be created. Never patented, it was cheap and easy to produce, so DES was made by hundreds of drug companies in the U.S. and around the world. DES was prescribed to millions of pregnant women in the mistaken belief that it could prevent miscarriage. It did not work but instead, DES harmed the mothers, the children born of those pregnancies and possibly the grandchildren and beyond.
Updated Gynecologist's Guide
We've updated the Gynecologist Guide to print out and take to your next appointment. It includes the latest findings, insurance codes for DES Daughters and the new guidance that DES Daughters should have annual PAP tests. You can download it here.
CVD Risks for DES Daughters
Cardiovascular disease (CVD) is the number 1 cause of death for all women. So it is particularly concerning that reliable research shows that DES daughters are 67% more likely to have coronary artery disease and twice as likely to have a heart attack. DES daughters, according to the study, have no higher likelihood of stroke. The increase in risk is not correlated with the amount of DES exposure or the timing.
Dr. Rebecca Troisi (et al) recently published a paper in the Endocrine Society's Journal of Clinical Endocrinology & Metabolism (abstract) that details the study. The participants were part of the US NCI (National Cancer Institute) DES Combined Cohort Follow-Up Study. These families have been followed for decades.
An interesting aspect of the study is that DES is being used to gauge the effect that other common endocrine disruptors are causing for the general population. BPA, often found in plastics, has shown indications in lab animal studies that it might be linked to CVD. Troisi's studies on DES help to clarify the possible risks. To read about the BPA link, please go to our sister site, MedShadow.org.
DES: A population health tragedy
A DES symposium was held at Boston University and was sponsored by the Maternal and Child Health in Action and Group on Reproductive Health and Rights. Below are videos related to the history of DES and to the ongoing research. For a video of Attorney David Fine speaking about lawsuits related to DES, and for more about the symposium, click here.

1. A History of DES by Kari Christiansen

2. Linda Titus, PhD, MA, Professor in the Departments of Epidemiology and Pediatrics at the Geisel School of Medicine at Dartmouth, explains the current research on DES.
---
Watch our FB Live Videos
DES Action Executive Director Su Robotti interviewed Dr. Nita Karnik Lee on June 17, 2018. Dr. Lee is an ob/gyn with a specialty in oncology. She has done DES research with Dr. Arthur Herbst's group at the University of Chicago.
Members can access our library of Facebook Live videos by logging in and going to the members content, video interviews section. In December 2018, Executive Director Suzanne Robotti and Community Manager Karen Calechman held a virtual Town Hall, answering questions from members about DES and taking a look back at the successes of our 40th anniversary year. In November, Karen interviewed Dr. Gary Levine, Radiologist and Breast Screening Specialist, focusing on issues specific to DES Daughters, including the difficulty of finding tumors in women who have dense breast tissue.
Previous interviews were with DES researcher Linda Titus (September); former Executive Director Fran Howell and former Program Director Kari Christiansen (August); Susan Helmrich, DES Daughter and co-founder of DES Cancer Network (July); Dr. Nita Karnick Lee, an ob/gyn with a specialty in DES and oncology (June); DES and Gender researcher Jacquelyne Luce, PhD (May); with DES lawyer Michael London (April); with author Susan Bell (March); with Peabody Award-winning documentarian Judith Helfand about her movie A Healthy Baby Girl (February); and with Dave Fuehrer, creator of the StupidCancer app. Dave's team added DES-exposed as one of the communities on the free app (January). Click for videos.